First of all I would like to Introduce myself. My name is Anita Henrikson and I am the owner of this site. I would like to have you join me into the world of cats, and my love of them and especially the Devon Rex Breed. I discovered my first Devon Rex while attending a local cat show. My first impression was what a delightful creature with big ears and impish expression, just begging to be held. I asked the owner if this would be possible, and what an experience that was. Soft and plush curls wrapped into a purr package. At that moment, I just knew that I was lost and that this was the special cat for me. My full-time profession was Color Specialist-Hairstlyist / Retired. For me, my cats are my love and hobby not a business.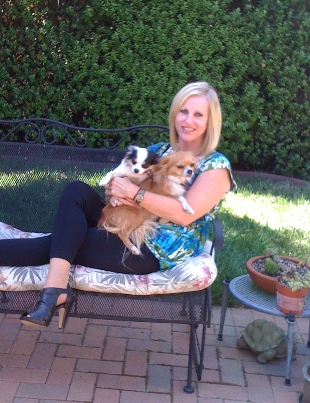 I got my first show cat in 1997. GP Rex-n-Fx Zotos Permanent Wave, a black smoke neutered male. He was to be the first of many show cats for me. I was told not to expect much at his first show, but to just learn and have fun. Much to my surprise! he did pretty good at his 1st show and I was bitten by the show bug. And in not too much time, my cat was earning all kinds of awards and titles and away we went! He has top titles now in CFA and TICA show associations. Sadly, but never forgotten Zoto has passed away.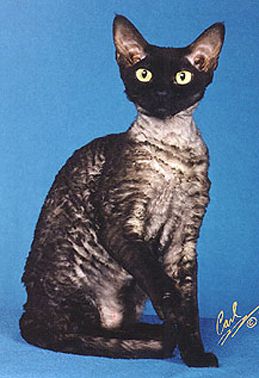 We are a small cattery dedicated to breeding to the CFA breed standard. Raising healthy, well socialized kittens, that are raised among my family. The Cats are our loved family members. We are Ringworm free, Felv negative. Because we are a small cattery, kittens are by reservation only. We do not sell kittens or cats that are NOT spayed or neutered except to approved breeders. All kittens and cats are sold with a written contract and health guarantee, and all shots are included. I am very happy to send you a copy of my Contract if you would like to read what it involves. Since kittens are always being evaluated for show or breeding, kittens do not leave to go to their homes until they are at the very least 16 weeks of age. The kittens really need all this time and more, to become well adjusted happy cats. And that they are able to be fully vaccinated also. We DO NOT advocate the practice of De-clawing and will not sell kittens or cats to anyone that wants to do this. I am more than willing to speak with you more about this. The world is a dangerous place and kittens/cats DO NOT belong out in it. So I will not allow cats of my breeding to be kept in homes where they are let out. I do not ship my kittens or cats as I feel that once on a plane the animals are not guaranteed the care and saftey that I want to see. If you are willing to fly or drive to pick up your pet then I'm more than willing to work with you. I also am more than happy to hand carry a pet on a plane to you if needed.
In this day and age, inviting people into your home can be quite dangerous.
We do not want to risk the safety of our family or pets.
We limit visits as much as possible for several reasons. Breeding is not our job but our hobby.
Therefore, as you can imagine our time is limited and precious to us.
We do not provide allergy visits at our home.
We do not allow visits to just to come look at the cats. When you're asking to visit, our "cattery" you are asking to visit our home, where we live with our family.
We will allow one visit, when we have a kitten to offer, to meet and pick your kitten if you have a choice in a kitten.
Visitors are pretty invasive in our daily life and strangers in the house can be extremely stressful for the kittens when they hear and smell things unknown to them, and their mothers who are very protective of their youngsters, especially with strangers. Young kittens are extremely vulnerable to airborne diseases and their mother's stress. Therefore we limit visitors to people who come pick their kitten up. That doesn't mean we have anything to hide, it means we take the utmost precautions for our own and our cats and kitten's sake.
We are always happy to meet you at a show. We often go to shows and bring several of our cats and kittens with us, and we're happy to meet with you there and show you who we have with us. We have many references available from people who have been at our house and from friends and fellow breeders that you can ask questions if you have any doubts regarding how our cats live and are treated.
Our Cats receive Genetic Evaluation using Optimal Selection Feline DNA. This testing includes the following:
Identity/Parentage Markers and Sex determinate markers
Polycystic Kidney Disease (PKD)
Mucopolysaccharidosis Type VI,VI Mild and MPSVII (MPS1, MPSM and MPS7)
Progressive Retinal Atrophy (PRA)
Blood typing
Cinnamon (CINNAM)
Chocolate (CHOC2)
Points (Points 1 and Points 2)
42 Genetic disorders including Congenital Myasthenic Syndrome otherwise known as Spactisity a Muscular Disorder found in Devon Rex.
Dilute (DILUT)
FGF5 longhair (FGF5 longhair (FGF5_1, 2, and 4)
All of our cats have been tested by our vet and are Felv, FIV and Heartworm Negative.